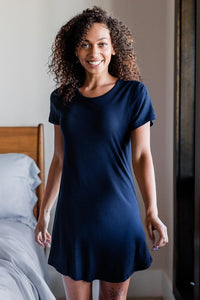 The Betsy nightshirt is our simplest answer to sleepwear. Uncomplicated and understated, our delightfully soft fabric invites a better night's sleep. Packs small for home away from home comfort! Features include a crew-style tee shirt fit and above the knee, rounded hem.
FABRIC: ORGANICALLY GROWN BAMBOO VISCOSE JERSEY
Like a second skin, our bamboo viscose jersey provides incredible softness, breathability, and sun protection.
95% Viscose from Bamboo | 5% Spandex
Naturally up to UPF 50 (Ultraviolet Protection Factor)
Sewn Where Sourced on Small Sewing Floors
Low Impact Dyes
Oeko-Tex 100 Certified