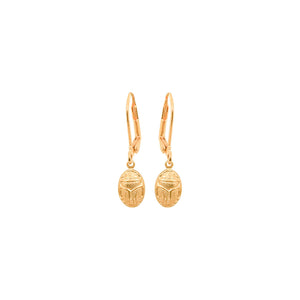 A symbol of resurrection and transformation, the ancient Egyptians believed the scarab helped move the sun along its path every day. Brass with gold-plated lever backs. Nickel and lead free.

1.25" [3 cm] long.
General - Always remove jewelry and/or hair accessories when washing hands, showering, or swimming. Unfriendly chemicals can cause unpredictable reactions, so put jewellery on last after you have applied perfume or hair product.
Brass & Copper - the beauty of these metals is that they can develop a rich patina with wear. Exposure to salt air and water will bring on bits of green patina. To restore to a bright finish we highly recommend EZ Brite's environmentally friendly Penny Brite cleaner, which also works beautifully on silver!